For more information about this report and other life science workforce related programs and events, contact:
In Northern California: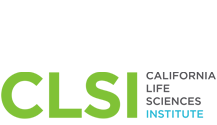 California Life Sciences Institute (CLSI) supports the foundations of innovation that have made California home to the world's most prominent life sciences ecosystem. With a focus on the San Francisco Bay Area, CLSI's mission is to maintain California's leadership in life sciences innovation through support of entrepreneurship, education and career development. CLSI is an affiliate of the California Life Sciences Association (CLSA), which represents more than 750 life sciences organizations. The California Life Sciences Institute is a non-profit 501(c)(3), and was established in 1990 as the BayBio Institute.
250 East Grand Avenue #26
South San Francisco, CA 94080
650.871.3253
In Southern California:
Biocom Institute provides a rich array of programs to accelerate the growth of the life sciences ecosystem through workforce development and STEM education programs. Our industry-leading initiatives drive success for professionals eager to expand and enrich their skill set. Our world-class Science and Engineering Festival inspires today's students to become future leaders. With a goal to invigorate the student community of California to embrace a career in STEM, and attract the best and brightest talent for long-term careers in life science, the Biocom Institute is a driving force in shaping the Science of Life. The Biocom Institute is an affiliate of Biocom, the largest and most experienced advocate for California's life science sector.
10996 Torreyana Road, Suite 200
San Diego, CA 92121
858.832.4155